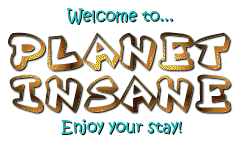 Welcome to Planet Insane!! This site is run by 4 people, 3 coincidentally named Sara(h), the other one is Erika! HA HA!! We are, well, we're all a little bit PsYcHo, so don't mind us if we go ballistic.
Please come to our chat room, and meet other weird insane peoples like us! And send an insane card to your insane friends, with our card shop! Oh yeah, don't forget to have some fun!!!

partially insane peoples have been here!